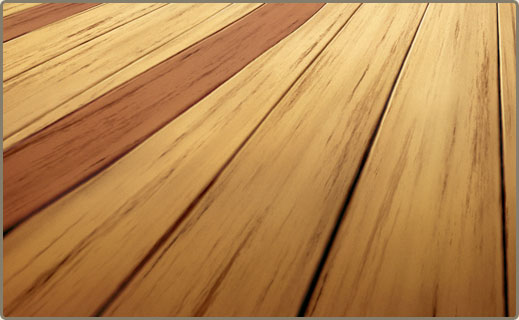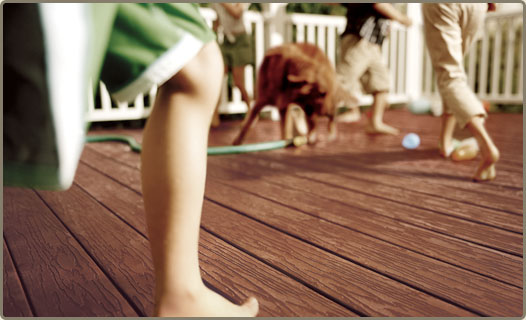 What is Trex®?
Trex is the leading brand of alternative decking, railing, fencing, and trim products designed to maximize your outdoor living experience.
Trex composite products are made of a unique combination of wood and plastic fibers. Trex gets its plastic and wood fibers from reclaimed or recycled resources. Including sawdust and used pallets from woodworking operations, and recycled plastic grocery bags from all over the country. Our resources are closely screened for high quality standards before they go near a Trex plant.
Our manufacturing process keeps thousands of tons of wood and plastic scrap out of landfills every year, while delivering our customers decking, railing and fencing products that are not only beautiful and long-lasting, but also environmentally responsible.
The exclusive Trex composite formula brings together the best qualities of wood and plastic to create a superior alternative to wood:
Plastic shields the wood from moisture and insect damage, preventing rotting and splintering.
Wood protects the plastic from UV damage while providing a natural, attractive look and feel.
The result is decking, railing and fencing products that require only periodic cleaning to stay beautiful for years to come – no need for sanding, staining or painting, ever. Other Trex advantages:
It will not rot or deteriorate due to harsh weather or insects. Trex is splinter-free and has excellent traction, even when wet. It contains no toxic chemicals or preservatives. Trex resists damage from moisture and sunlight, making it the natural choice for pools, hot tubs and spas. Trex is available in a wide range of colors and finishes to suit any style.
Trex Company created the composite decking category and revolutionized the industry. Since then, Trex has inspired many imitators, but they still can't match the enduring quality and beauty of Trex. In the end, there is only one Trex. Be sure to ask for it by name.
Why choose Trex®?
Superior Beauty & Comfort
Trex is smoother than wood and every other composite.
Trex will not splinter, so bare feet and hands are always safe.
Trex has excellent traction, so those bare feet stay put.

Trex's slip-resistance level is compliant with the Americans with Disabilities Act.

Trex is soft-to-the-touch for unmatched barefoot comfort.
Trex offers the widest range of colors, styles, and finishes.

Warm, attractive colors.
Most natural-looking textures.

Trex makes the design possibilities endless.

While very strong, Trex can also bend to create curves and patterns not possible with wood.
Mix and match colors to create unique design.
Less Maintenance
Unlike typical wood decks, Trex:

will not warp or rot due to harsh weather.
is splinter-free.
doesn't need sanding, staining, or painting ever.

Because it withstands the elements so well, Trex proves to be a low maintenance investment.

Looks great year after year with only periodic cleaning.

Resistance to moisture, insects and sunlight damage makes Trex ideal for use around pools, hot tubs and spas.
Trex is made of a unique combination of reclaimed wood and plastic.

Plastic shields wood from moisture and insect damage.
Wood protects plastic from UV damage.
Best Value
Because maintenance costs are minimal, Trex saves you money over time.

While Trex may be a larger investment upfront, it proves a smarter investment than wood just after 5 years.

Trex doesn't weaken over time the way wood does.

Maintains its high quality and value for years to come.

Trex outdoor living products immediately boost your home's value while enhancing its beauty.

On average, you can recoup 73% of the cost of adding a deck, making it one of the best investments you can make for your home.
Trex decks have proven to be key selling points for potential homebuyers.

Trex offers a 25-year limited residential warranty on all its products.

You can never have too much peace of mind.
It's the Industry Leader
Trex was the first to invent an alternative to wood decking.

Pioneered the entire composite decking category.
We spent years refining our products and continue to innovate.
Has most experience and the longest record of proven performance.
Over 1 million homeowners across the country have a Trex deck.

Trex has been installed in many public venues, withstanding harsh weather and tourist foot traffic in landmarks such as:

the Toronto Boardwalk.
Florida Everglades.
the Spring Lake Boardwalk.
Mount Rushmore.

There are many imitators, but only one Trex.

Trex set the standard that competitors are still trying to reach.
Trex delivers a natural look and comfortable feel no other composite can match.
Trex offers design options (widest range of colors, textures and styles) other composites don't have. Imitators simply do not measure up – make sure to ask for the Trex brand.

Trex is the composite material most trusted by professionals.

Professionals like Trex's superior workability, flexibility and easy maintenance.
Recommended and used by more contractors than any other brand.
Architects and builders turn to Trex when they need a supplier that will help build their design vision with confidence. We have the largest network of dealers and TrexPro® contractors.
Our professional awards include: Brand Leader Award from Builder Magazine, Best in Class Award from Professional Remodeler and Professional Builder magazines.
Trex® is Environmentally Friendly
The same process we use to make our products is also environmentally responsible. Trex® is made from about 50 percent recycled and reclaimed plastic, and 50 percent reclaimed wood. These materials would otherwise go unused in landfills. Using sustainable materials and green manufacturing processes is a policy that touches everything we do.
Recycling Facts
Trex keeps some 300,000 tons of plastic and wood scrap out of landfills every year.

That comes to about 600,000,000 pounds saved annually.

NO TREES ARE CUT DOWN for the purpose of making Trex. Our wood comes from:

Reclaimed wood from woodworking operations.
Used pallets.
Sawdust (300 million pounds a year)

Trex recycles all forms of polyethylene.
Trex is one of the largest plastic bag recyclers in the United States.

Grocery/Retail/Drug Stores.

7 out of every10 recycled grocery bags in the U.S. end up at Trex (about 1.5 billion per year).

Industrial Accounts
Agricultural Operations
Food & Beverage plants
Government agencies
Colleges & Universities
Bulk Pellets/Flake & Densified

Our manufacturing process is as green as our final product.

Trailers are hydraulically powered with vegetable-based oil.
Our proprietary processing method eliminates smokestacks.
Factory runoff/refuse is recycled back into the manufacturing line.

As much as possible, Trex packaging is made from recycled paper and plastic.
We regularly seek out third-party audits to make sure we're continuously improving our green practices while meeting all environmental, health and safety guidelines and regulations.
*For this information and more, visit the official Trex® website.*